Anja Helm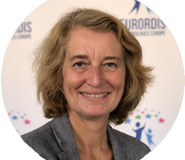 Leitende Managerin für Beziehungen mit Patientenorganisationen
Nehmen Sie mich in Ihre Kontaktliste auf
Dear Members,

We hope you are safe and well in this unprecedented situation.
As the rare disease community knows so well, we are #StrongerTogether in the face of adversity.

We are centralising Covid-19 information resources relevant to you and the rare disease community via this page:
www.eurordis.org/covid19resources

To fight against the isolation we may all be feeling, we have started sharing photos of how we are living through the current situation. Connect online with us and the wider community by sharing your photo on Facebook, Twitter and Instagram with #StrongerTogether and #RareDiseases.

Now is the time to pick up the phone, make a video call and stay in touch with each other. Don't hesitate to contact a member of the EURORDIS team. Please find our latest press releases/ statements on Covid-19 at: www.eurordis.org/content/eurordis-press-releases.

Information regarding our upcoming online events:
- For your information - the EURORDIS General Assembly 2020 will take place online on 13 May. More information will be shared with you on how to participate online in next week's edition of the Member News.
- As you already know, the European Conference on Rare Diseases & Orphan Products 2020 will now take place online from 14 - 15 May.
- If you had already registered to attend the ECRD, you will receive an email direct from the EURORDIS events team next week with information on how to participate online.
- If you have not yet registered and would like to participate online please stay tuned for information in next week's edition of the Member News on how to register.
In solidarity,
Anja
Zur Browser Version der EURORDIS Info für Mitglieder geht's hier!